Checkbook Information Wizard
Step 4 of 5

The Checkbook Information Wizard walks you through setting up your checkbook. From the My Accounts screen click Edit Checkbook or from the Write Checks screen and click Account and select Edit Checkbook.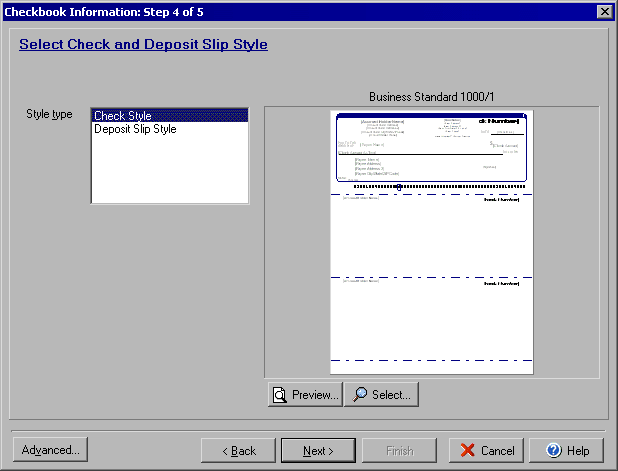 Step 4 will allow you to select the check and deposit slip styles to use. In the Style type display area click either Check Style or Deposit Slip Style (you can select one to determine the check type and then switch to determine the deposit slip style after that.) Click the Preview button to see a full view of the complete check or deposit slip. The Preview button will allow you to view exactly which attributes are available or unavailable on a particular check style (e.g., Account holder logo, Lines under the payee name or amount field, data printed on stubs, etc.) To change the check or deposit slip style set for the checkbook use the Select button.

Click Next to continue to Step 5 or Back to return to Step 3.

Clicking the Advanced button will allow setting up special encoding if needed.