The Payee Setup screen allows you to set up payees and payors by entering information about a person, business, or organization to whom you will make a payment(s) or from which you will receive payments. From the File menu select New and then Payee or click on the New button on the Payees screen.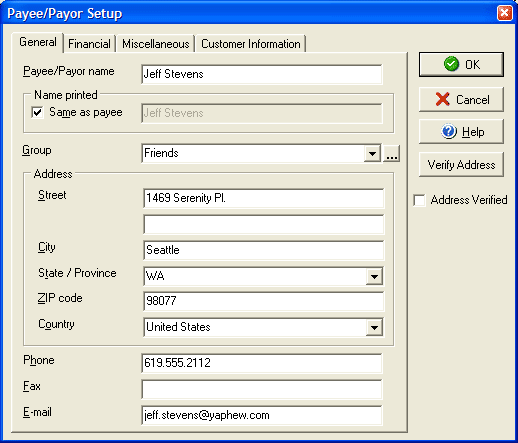 Enter the name you wish to use as a reference in the Payee name field.
If the name you want printed on checks is different than the reference name used in step 1, uncheck the Same as payee box and type in the name as it should be printed.
Select the appropriate Group to which to add the payee.
Enter any or all of the address information that you wish to include in the appropriate Address fields.
Enter the payee phone number in the Phone field if applicable.
Enter the payee E-mail in the E-mail field.
You may click OK or select the Financial, Miscellaneous or Customer Information tabs to add more information about this payee.