Weighing only 5lbs, this ultra-compact all-in-one check printer is designed to fit where you need it. The HP 3755MX lets you print full color checks and documents with bank compliant Magnetic Ink Character Recognition (MICR) ink. Easy-to-use, this printer saves you 50-80% or more vs. buying pre-printed checks from banks and mail-order suppliers and is equally able to handle all your everyday document printing, copying, and scanning.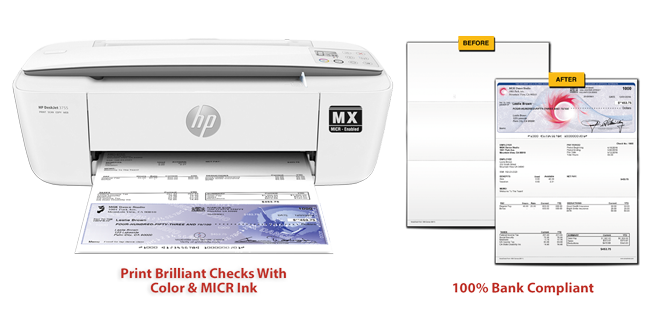 Check printing with the 3755MX is 100% bank compliant with MICR enabled VersaInk™ cartridges. You can print directly from your desktop or any network connected PC via built-in Wi-Fi networking connectivity.
Versaink™ magnetic black ink (MICR) for bank compliant check printing
Super compact and lightweight (5.13lbs)
All-in-one system: print, copy, scan
Network ready: Built-in Wireless (802.11b/g/n) connectivity
VersaCheck® Presto software & check paper included...everything needed to print your own checks!
HP 3755MX Check Printer
1 VersaInk-nano HP 65MS - Black MICR Cartridge - 4X Life
1 VersaInk-nano HP 65CS Color Ink Cartridge - 4X Life
VersaCheck® Presto* Software (Download)
1 USB Printer Cable

*VersaCheck Presto requires use of VersaCheck checks.
Financial account validation available through VersaCheckPay.com