The HP Tango MX MICR Printer Bundle is a smart wireless printing system that lets you print full color checks and documents with bank compliant Magnetic Ink Character Recognition (MICR) ink. Easy-to-use, this printer saves you 50-80% or more vs. buying pre-printed checks from banks and mail-order suppliers. And the Tango MX is equally able to handle all your everyday document and photo printing.
The Tango MX easily yields up to 200 pages (600 checks)* per magnetic MICR ink cartridge! Print everything from checks to postcards, flyers & everyday documents. Increase productivity with voice-activated printing, so you can print hand free with Amazon Alexa and Google Home. With the Tango's cloud-based, two-way network connection you can print, scan, and copy from any device, anywhere.
Check printing with the Tango MX is 100% bank compliant with MICR enabled VersaInk™ cartridges. You can print directly from your desktop or any network connected PC via built-in dual band Wi-Fi networking connectivity.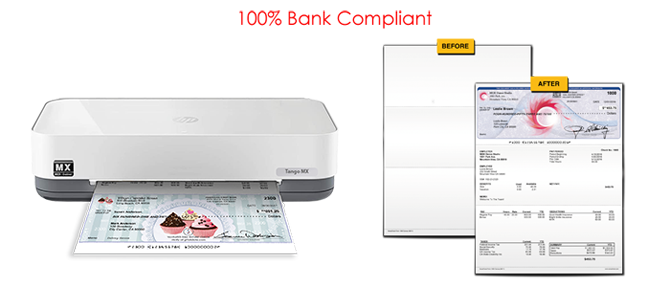 This system includes VersaCheck® X1 Gold software to begin printing checks right away. With our X1 Gold software you can create and print custom checks, manage finances, and process incoming and outgoing payments.
Also included is the GoTest™ MICR line scanner to confirm your checks are printing with bank compliant MICR ink!
Versaink™ magnetic black ink (MICR) for bank compliant check printing
Smart wireless printing system – Print, scan, & copy directly from your smartphone!
Voice-activated printing with Amazon Alexa and Google Home
VersaCheck® X1 Gold software & check paper included...everything needed to print your own checks!
GoTest™ - Scan and authenticate your checks!
Printer drivers included for: Windows® 10, Windows® 8, Windows® 7