Exceptional ink savings technology. Get more prints from every cartridge
Extend Cartridge Life.
Versaink cartridges with the '4X Life' designation include the 4X UltraSaver™ software solution to reduce ink usage and save you money every time you print. Software download instructions and an activation code are included.
4X UltraSaver™ is software that lets you control your ink & toner usage and saves you money every time you print. Using 4X UltraSaver is easy and fun.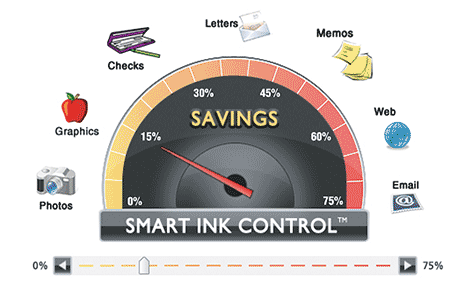 Save Up to 75%
Choose your ink savings by using the "Smart Ink Control" dial. 4X UltraSaver optimizes your print files to reduce ink usage while maintaining sharp, presentable output. By reducing ink consumption up to 75% you extend your cartridge output to achieve up to 4 times regular cartridge yield and reduce cartridge waste up to 75%.
BONUS: PDF Generator
4X UltraSaverô can convert any printable document into PDF format for accurate email attachments or disk archiving. Why print emails and web pages when you can convert them into PDF documents and store them on disk. PDF Generator allows you to:
Manage documents
Prevent document alterations
Send documents quickly and easily via email
Store PDF files on disk or your computer hard drive
Print PDF documents any time!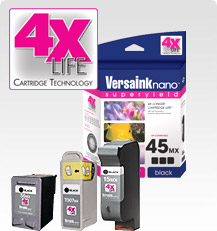 The Ultimate Printing Solution.
Look for the '4X Life Ink Cartridge' designation on Versaink packaging to start saving money and natural resources today.
Print precise text, brilliant photos AND guaranteed bank compliant checks with VersaInk-nano. It's unique properties also produce output that is long-lasting, durable and tamper-proof.
Note: Cartridge yield and ink savings may vary.
UltraSaver™ software requires use of VersaInk-nano ink.