VersaCheck X1, an ultra-secure platform for creation and delivery of highly secure and safeguarded paper checks. This solution offers counterfeit prevention, financial account protection, real-time deposit alerts and avoidance of credit card finance charges.
VersaCheck X1 Gold is a powerful financial tool that can help you manage your accounts, track accounts and transactions, and write, send and receive checks. This multi-featured program will help you save time and money, and will allow you to manage your finances with ease!
Create Business Checks
Check Designer Pro™ – control all design elements on your checks
Send / Receive Checks and Drafts – by phone, fax & email
Built-in Positive Pay support to safeguard against account theft!
ePay Terminal - accept gCard debit payments from anywhere
---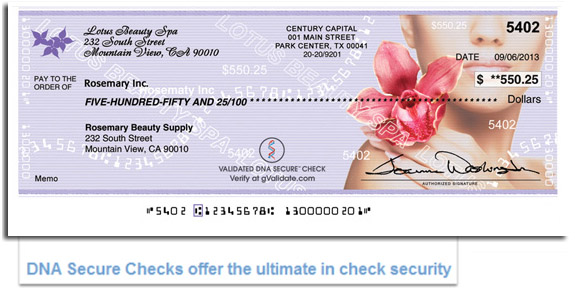 With its new line, VersaCheck.com is implementing the highest government mandated standards to protect consumers and merchants. After a simple and non-invasive online validation process, taking only minutes, you will be enabled to print DNA Secure and online verifiable Checks. DNA Secure checks use complex personalization of the check's security background as a means to uniquely individualize each check with eye-catching security patterns. The system can alert you of unauthorized checking account activity and allows merchants to verify a checks' authenticity. This combined with the new personalized digital print patterns delivers the ultimate in security to personal and commercial check-based transactions.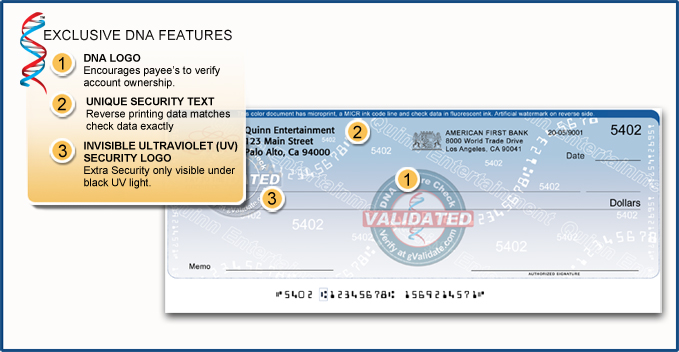 ---
UV invisible icon and text fluoresce with exposure to UV black light. Software is backwards compatible with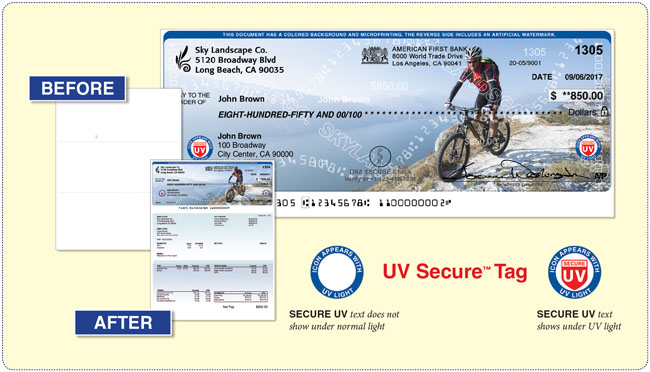 previous VersaCheck® versions and paper styles. VersaCheck® - UV Secure Check Refills are the perfect high-security blank check paper designed specifically for use with all VersaCheck® software products to print custom checks that comply 100% with ANSI X9 banking standards. Security features include UV invisible security marks, erasure protection, micro print lines, security screens, and artificial watermarks. UV invisible security marks can be easily viewed with UV blacklights.

---
ePay Terminal™ is the new VersaCheck feature that allows merchants to accept gCard debit payments from anywhere. Just like a credit card terminal, merchants can simply enter their customers gCard information and process payments, but without any of the credit card fees. The ePay Terminal™ solution saves merchants over 90% on payment processing!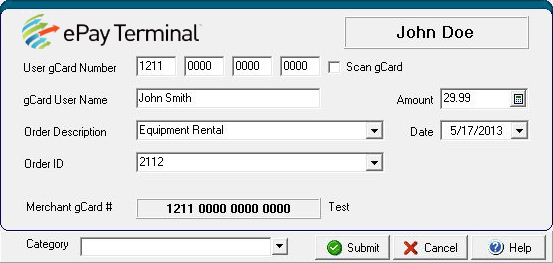 ---
Create and print your own custom BUSINESS & PERSONAL checks in just minutes with your Windows PC and laser or inkjet printer! Create checks that express your style and fit your individual needs. Save 50 - 80% vs. preprinted checks from your bank or mail-order! VersaCheck allows you to print all the elements necessary to be 100% compliant with all U.S. and Canadian bank requirements, including your bank's stylized code number (which includes your account number) on the bottom of the check.
FILL OUT ON SCREEN OR BY HAND

Print your complete check in one print pass or print to be filled out manually.

ADD CUSTOM LOGO & COMPANY INFORMATION
INCLUDE BANK INFORMATION

Shows your bank?s address & logo.

IMPORT GRAPHICS

GIF, JPG, BMP, TIF, WMF, PCK, PCD, TGA, EMF & PNG file formats.

SEQUENTIAL CHECK NUMBERS ARE PRINTED & TRACKED
INCLUDE A MEMO & POSTAL BAR CODE
CUSTOM MESSAGE OPTION
PRINTS REQUIRED BANK CODE LINE

Print your bank account number in the MICR font using Versaink/Toner? for compliance, every time. VersaCheck® also verifies this bank code line for accuracy!

CHECK SIGNATURE

TrueSign? creates your digitized signatures & protects them with a password. You can also scan your signature or sign by hand.

SECURITY ICONS

Extra safety plus Check Payment System Association (CPSA) approved features!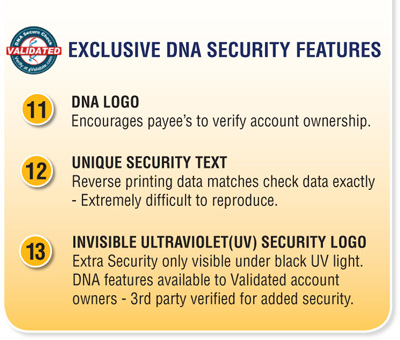 ---
VersaCheck's point-and-click interface makes creating custom checks a snap! Just follow the on-screen instructions, type in your information, insert your graphics, and print. It's really that simple!
---
---
VersaCheck EZ-Scan™ instantly recognizes your scanned check data and records it into the Check Account Setup database quickly and accurately. Eliminate manual data entry and typing errors.
---

---
Find information you need quickly
Balance unlimited business & personal accounts
Create easy to read reports from your financial data
Organize payees, vendors, customers & contacts
Transactions are kept up-to-date – no guesswork!
Easy Setup
Access all accounts with one click
Access payee information
View all account activity
Auto-Pay-Scheduler
Write checks for all your accounts

Run Payroll & more, create paychecks & W2s*
Process & manage credit card transactions*
See all accounts in one place
View upcoming bills & transactions
Access productivity tools & order supplies
Online support & services

*Service fee applies
Quickly create new accounts & checkbooks with VersaCheck's easy step-by-step wizards. Add as many accounts as you need. You can even setup multiple company files.
---
Setup unlimited bank accounts and manage multiple checkbooks. Accurately tracks check numbers. VersaCheck synchronizes financial data & records. Easily reconcile all your accounts.
---
Save time by importing your existing check, payee and account data from QuickBooks, Quicken, Peachtree, Excel and others. Recognized formats include .qif, .csv .txt .iif ..xml .qbw.
Export transaction data in .CSV format to create custom reports in Excel, Access, Word & more.
---
Never receive a late fee again! Schedule your payments to be entered automatically, or set bill-payment reminders!

---

---

---
Using VersaCheck's Draft feature, enter your customer's check details to create & print a check draft for you to deposit immediately. Receive customer check details from phone, fax or internet. Schedule and automatically collect recurring payments or service fees!
Why pay credit card fees when you can accept & deposit check drafts for nearly free! Merchant plans start for as little as $2.99! Click here to learn more.

---
VersaCheck's contact manager lets you easily set up new contacts easily, so all your customer information is kept at your fingertips. Track and date-stamp customer correspondence and notes automatically, to you keep a detailed history record for every customer.
Use existing data fields or create custom data fields for your customer information. Includes a payee database so you don't have to re-type payee information for recurring bills, payments and forms.
Store unlimited contact data and images
Keep detailed conversation records
Create custom fields: i.e., birthdays, company size etc.
Filter and sort contact records with ease
Password-protect your customer database

---
Check printing and processing in the USA is governed by the Federal Reserve with guidelines authored by the American Bankers Association (ABA), the Check Payment Systems Association (CPSA) and American National Standards Instituted (ANSI) standard X9. In Canada, Canadian Payments Association (CPA) cheque specifications standard 006 and ANSI standards determine bank compliance.
VersaCheck Software, VersaCheck paper, VersaInk, VersaToner and VersaJette printers meet or exceed all USA & Canadian bank industry and government check specifications.
Note for Canadian customers: VersaCheck software boxes contain USA compliant check paper.
Please order Canadian check paper here.

---
VersaCheck Gold supports the use of our forms as shown below.