VersaCheck X1 TopSecure™ Series is an ultra-secure platform for creation and delivery of highly secure
and safeguarded paper checks. This solution offers counterfeit prevention, financial account protection,
real-time deposit alerts and avoidance of credit card finance charges.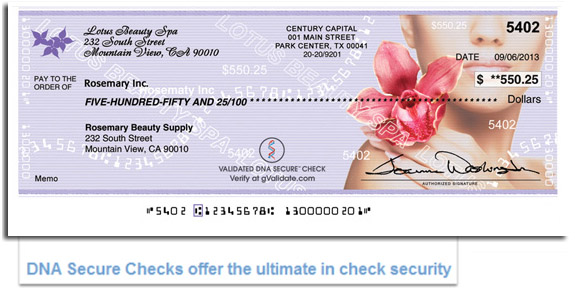 With its new line, VersaCheck.com is implementing the highest government mandated standards to protect consumers and merchants. After a simple and non-invasive online validation process, taking only minutes, you will be enabled to print DNA Secure and online verifiable Checks. DNA Secure checks use complex personalization of the check's security background as a means to uniquely individualize each check with eye-catching security patterns. The system can alert you of unauthorized checking account activity and allows merchants to verify a checks' authenticity. This combined with the new personalized digital print patterns delivers the ultimate in security to personal and commercial check-based transactions.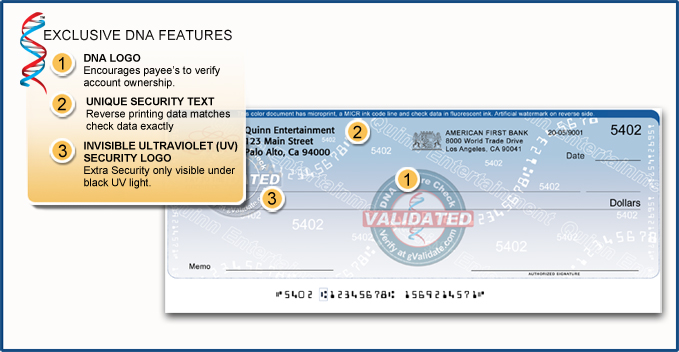 ---
INKcrypt® Security Band:
Printed with invisible UV fluorescent INKcrypt® ink unique to this package.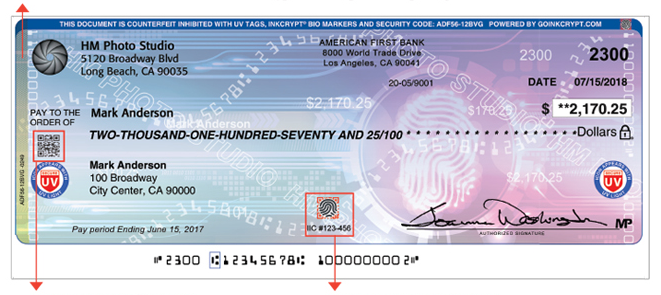 To Activate & Authenticate
INKcrypt® security Feature:
Scan QR code with mobile-device or
enter code manually at inkcryptink.com.
INKcrypt® Security Icon and
INKcrypt® Item Code (IIC):
Required to authenticate printed information on check.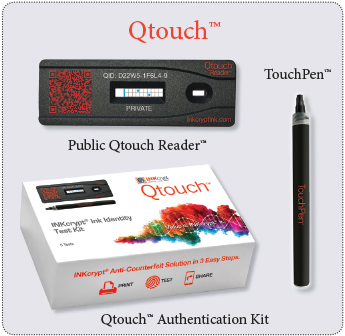 Revolutionary INKcrypt
®
technology was developed to eliminate growing worldwide losses from counterfeiting and fraud. The system utilizes unique INKcrypt
®
biological ink markers that give their own personalized, exclusive DNA-identity. This unique identity can be tested on-the-spot using a Qtouch
™
Authentication Kit, a one-time-use test we have developed to allow instant item authentication by anyone, anywhere!
The INKcrypt
®
Security Band printed with INKcrypt
®
ink is unique to all VersaCheck Top Secure check paper packages. This enables instant authentication of your checks using a Qtouch
™
Authentication Kit.
INKcrypt
®
Secure check samples are included in 2020 software boxes.
Activate the INKcrypt
®
Security Feature by scanning the QR code with a mobile device or entering the code manually at inkcryptink.com. Authorize your printed checks using a Qtouch
™
Authentication Kit.
Order Qtouch
™
Authentication Kits at inkcryptink.com VersaCheck INKcrypt
®
Top Secure check refills are available
here
.
---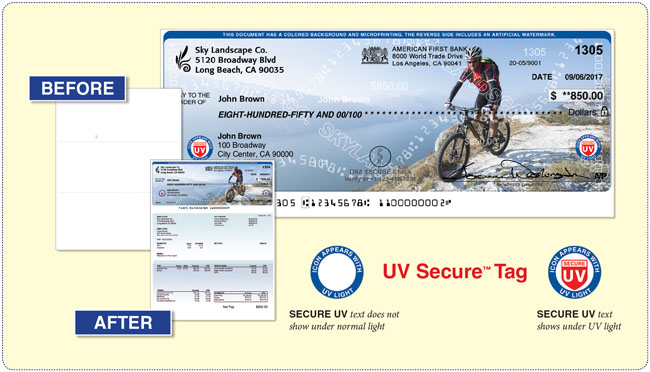 UV invisible icon and text fluoresce with exposure to UV black light. Software is backwards compatible with previous VersaCheck® versions and paper styles. VersaCheck® - UV Secure Check Refills are the perfect high-security blank check paper designed specifically for use with all VersaCheck® software products to print custom checks that comply 100% with ANSI X9 banking standards. Security features include UV invisible security marks, erasure protection, micro print lines, security screens, and artificial watermarks. UV invisible security marks can be easily viewed with UV blacklights.
---

The new payment processing solution for merchants!
ePay Terminal™ is the new VersaCheck feature that allows merchants to accept gCard debit payments from anywhere. Just like a credit card terminal, merchants can simply enter their customers gCard information and process payments, but without any of the credit card fees. The ePay Terminal™ solution saves merchants over 90% on payment processing!

• Accept gCard debit payments from anywhere
• Use your mobile device to accept payments on-the-go
• Save over 90% on payment processing vs. credit cards
• No transaction fees!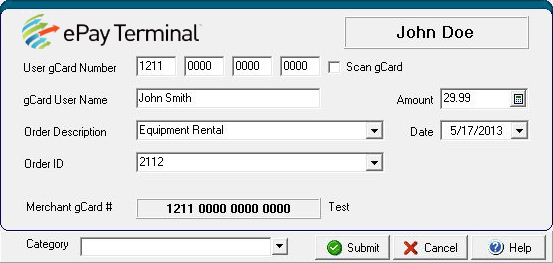 ---
Quick and Easy Set Up!
In just minutes, set up unlimited bank accounts and save payee information in your address book.
Never retype data!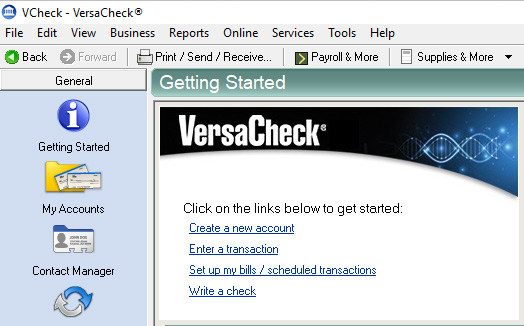 ---
Print standard, voucher and wallet sized checks in a single print pass directly from QuickBooks.
1. Simply choose 'VersaCheck Printer' from your 'Printer Name' list when printing checks from QuickBooks, Quicken or Money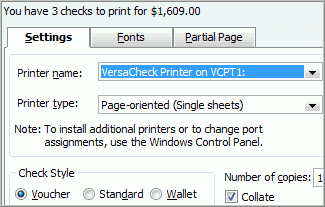 2. VersaCheck then adds all your bank account information including routing number and check number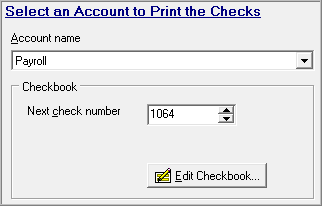 3. After choosing a physical printer a perfect check is printed using inexpensive blank security check paper!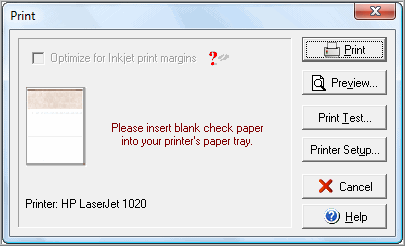 ---
TrueSign eSignature Creator and Manager
TrueSign™ creates your encrypted digital signature image and protects them with a password. You can also scan your signature or sign by hand.
---
Check Designer PRO with over 300 hand-crafted images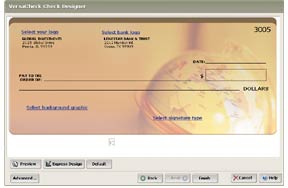 Unlimited check design capabilities! Fully customize existing templates or create check templates from scratch! Add and edit logos, shapes, lines, text (font styles and sizes) and tables. Preview checks on screen while designing.
---
Create and print your own custom business and personal checks
With VersaCheck for QuickBooks, you can create and print your own custom checks in just minutes with your Windows PC and laser or inkjet printer! Create checks that express your individual style whenever you like. You are no longer limited to the style the bank offers you. Save $50 or more* with each 250 sheet pack of checks! VersaCheck for QuickBooks automatically prints all the elements necessary for your checks to be accepted by any bank in the U.S. or Canada, including your bank's stylized code number (which includes your account number) on the bottom of the check.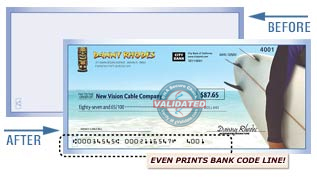 ---
User Friendly
VersaCheck's point-and-click interface makes creating custom checks a snap! Just follow the on-screen instructions, type in your custom information, place your graphics, and print. It's really that simple!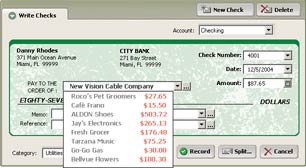 ---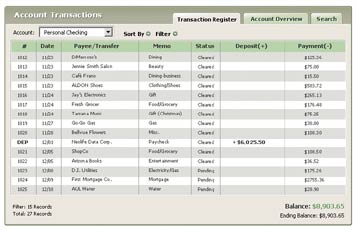 Easy-to-use and powerful program features enable you to be in charge of your finances. In minutes you can view your net worth, upcoming payables and receivables.
---
Seamlessly works with Quicken, and Money too!
Easily exchange transaction files with popular accounting programs Quicken or Microsoft Money®. Print your checks in one-pass, in one batch, on blank security paper. Or send your checks instantly and inexpensively via the Internet. Synchronize your financial data and bank account information.
---
Includes payee database so you don't have to retype payee information for recurring bills and payments. Keep complete contact information and important notes at your fingertips.

*per competitor pricing of 250 pre-printed voucher checks, 1-up, as of 04/2012.