Get this printer FREE! with any $1,000.00 minimum purchase!
details
Multipurpose MOBILE Stealth InkJet Printer
For Confidential, Hidden and Privileged Output.
Individuals and business can now create invisible output: The cutting edge way to protect and authenticate any document that can pass through an inkjet printer such as checks, tags, labels, ID cards, tickets, photos, and more. Completely safe and environmentally friendly, Stealth iX ink is UV fluorescent and glows visibly when exposed to Stealth™ iX UV display lights (one included - click here for additional lights.)
HP 100iX Stealth™ Mobile Printer
iX Stealth Inkjet Cartridges - print Invisible UV Light Fluorescent information on anything that can pass through a printer

1 HP 94BiX Stealth - Invisible Ink Cartridge - Replaces Black
1 HP 95CiX Stealth - Invisible Ink Cartridge - Replaces Color

iX Stealth High Contrast Paper - Starter Pack
iX Stealth™ UV Display Light Key Chain
Printer drivers included for Microsoft® Windows® 7, Windows Vista® (x32 and x64), Windows® XP Professional x32, Windows® Server 2003, Windows® Server 2008; Mac OS X v 10.5 or higher, Windows Mobile® 5.0, 6.x for Pocket PC, Linux.
Stealth™ iX users also buy: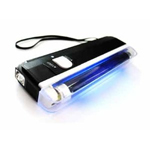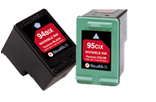 *Fluorescent light emission intensity may vary with paper/media surface treatment
*USB printer cable NOT included